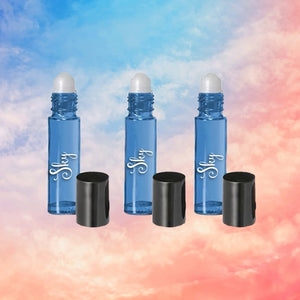 Sky is the perfect fragrance made just for spring. Smell the sweet aroma of honeysuckle, amber and a host of other amazing fresh scents wraped into one big cloud. Bloom like a flower and reach for the heavens with sky by your side.
* With every sky purchase you will receive a free lipgloss from Juicy Amour in the blue raspberry flavor.
Fragrance Notes: 
grapefruit, lemon, peach blossom, water lily, cassis, cucumber, and cyclamen, middle notes of lily of the valley, olive blossom, nectarine, and jasmine, with a woody, musky, vanilla base note, amber, and honeysuckle.
Handmade from natural essential oils.
* Amber glass 10ml bottle in blue with a gold top.
* Protects essential oils against harmful UV rays.
* Bottle made of corrosion resistant glass.
* Women's only fragrance